When I made the impulsive decision to go back to church after two decades in the heathen wilderness, I bypassed the pews and headed straight for the choir loft. It was music, not religion, that brought me to First Presbyterian in downtown Beaufort almost eight years ago.
I grew up in Alabama, where my parents raised us Methodist. They sent my sisters and me to Sunday school, MYF, Camp Sumatanga, the works. Despite their diligence, it never really took. I stopped going to church in college at Sewanee, where I didn't so much "lose my faith" as discover I didn't have any. All it took was a little book learnin'—and a few late-night keg parties—and I was done getting up early on Sunday mornings for something that seemed both unlikely and irrelevant. Later, I went to grad school at the University of Alabama to study English. It was the late 1980s, deconstruction was all the rage, and the bias against religion was palpable in our department. To an insecure young scholar, the message came through loud and clear: you're either a thinker or a believer; you can't be both. I took that message to heart and lived it—rather religiously—for twenty years.
But I never got over the music. My parents had sung in the church choir; they'd brought us up to love Bach and Beethoven, Schubert and Handel. That stuff gets in your bones, your blood. Faith may desert you, but music doesn't.
So there I was one cold morning in December, sitting in First Presbyterian Church of Beaufort—some friends had invited me—listening to the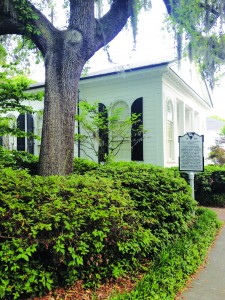 choir sing the Christmas part of Handel's 'Messiah' . . . and crying like a baby. Something happened to me that morning, and I still don't understand it. I heard the words I'd heard a thousand times before – And the government shall be upon his shoulder, and his name shall be called Wonderful Counselor, the Mighty God, the Everlasting Father, the Prince of Peace— and my heart just cracked wide open. Suddenly, I wanted to believe those words more than anything in the world, and I wanted that music to go on forever. When the performance ended, I marched my shaken, trembling self up to the choir director—a total stranger—and asked if I could join his group. It was the most impetuous thing I'd ever done. Had I given it even a moment's thought, I'd have talked myself out of it. I've since learned that Christians call this "stepping out on faith." It felt more like walking the plank. I was terrified.
Fast-forward seven-plus years. I am a second soprano. I sit on the second row, near the middle of the choir loft, where I spend a lot of time studying the back of my minister's head. Patrick is a youngish man—early forties—and I like the way his thick black hair swirls neatly above his collar. In summer, he wears an alb made of rough white cloth, with a fat rope at the waist. This monastic touch moves me, though I'm not sure why. I like hearing Patrick read scripture, his voice deep and resonant, without a trace of twang. I like that his sermons are thoughtful and challenging, that he quotes C.S. Lewis and Henri Nouwen, Martin Luther King and Bono. I sometimes wish he'd give easier answers—would tell me exactly what to be believe, and how—but I also know a preacher like that would soon drive me nuts . . . and right back out of the church.
It was in the choir loft that I shocked myself by remembering every single word of the Apostle's Creed. It just came flooding back, line by line, after twenty years in mental exile. Same for the Lord's Prayer, the Doxology, the Gloria Patri. I spent that first Sunday in the choir loft almost too overwrought to speak or sing. The words kept rushing back like long lost friends—who knew I'd missed them?—and my throat would tighten, then the tears would come. So I just listened, mostly; I'm not sure I'd ever really listened before. What splendid words they were! It felt so strange to be there, both audacious and humbling. (Who did I think I was, after all this time away?) But it felt right, too. Like coming home. I felt like the prodigal daughter.
From the choir loft, I can see everything—humanity in all its terrible beauty. Old men sleeping, young children squirming, teenagers snickering, new mothers joggling infants, rushing out when the wailing starts. I see women wobbling in on ridiculous heels and men checking their watches and kids doodling on their bulletins during the pastoral prayer. From the choir loft, everyone looks small and vulnerable and I love them all. Mercy comes easy in the choir loft.
Sometimes, after the prayer of confession, I can even extend it to myself.
I like watching the congregation walk forward to take Communion. The sight of all those ordinary people in their contemporary clothes slowly moving forward for this ancient sacrament just gets to me. People still do this. After 2,000 years. "Great is the mystery of faith," reads the minister. I watch as the people pinch bread from the loaf, dip it in the cup, return to their pews, lower their heads. I wonder what they're thinking, what they're feeling. The body and blood of Christ. What does that mean to them? To me?
Presbyterians are big on their Scottish heritage, and from the choir loft the annual Kirkin' of the Tartans is dazzling to behold. I'll never forget my first Kirkin' processional as it came toward me down the aisle—the men in their kilts and women in their sashes, the tartan flags held high, the mournful drone of bagpipes. When the service ended and the processional headed back toward the narthex, I caught sight of Rev. Miller and Bishop Hathaway from our neighbor church, St. Helena's – the Bishop in full Anglican regalia, looking damn near papal—standing on the sidewalk outside our doors, waiting to parade with us through the streets of downtown Beaufort. The Anglicans were resplendent in the bright fall sunshine, and the image of them framed in our Presbyterian doorway is a permanent snapshot in my memory.
From my perch in the choir loft, it's always wonderful to see our doors thrown open to the street outside. It happens every Easter, just before we end with the "Hallelujah Chorus." The ushers open the doors, we choristers rise, the familiar strains of Handel's joyous anthem begin, and the whole congregation stands. It's taken me years of practice to sing over the lump that inevitably fills my throat. Handel brought me back to church, and Handel's one reason I stick around. But not the only reason.
It was in the choir loft that we sang "Holy, Holy, Holy" with all of Old Beaufort at Helen Harvey's funeral. It was her favorite hymn—she adored the descant, and I swear there were angels singing it with us that day. It was from the choir loft that I heard Pat Conroy eulogize his dear friend and "second mother" Julia Randel, and there that I've sung the 23rd Psalm at more funerals than I can count. I've watched children weeping for their lost fathers from that choir loft, and mothers crying over their newly baptized babies, too.
Sometimes, I sit looking out at our sanctuary, so simple and austere (though I'm told there are more than twenty different shades of white paint in that room), and I miss the baroque church of my childhood—its dark, ornate carvings and flamboyant stained glass windows. I don't know that I'm a Presbyterian at heart; I'm certainly not a Calvinist. If it were just about aesthetics, I'd probably be a High Church Catholic. If it were just about theology . . . well, who knows? I'm not sure it's all that important. If God is Love, I've found Him here in this little white church in downtown Beaufort.
I still have all the old questions; I still struggle with belief. I probably make it a lot harder than it needs to be—once a thinker, always a thinker. But the choir loft is a very good place to hash it out. Or better yet, just to let it be. In the choir loft, I can rest with my questions. I can silence all those voices that vie for attention in my beleaguered brain—the critic, the cynic, the anxious preteen, the spoiled brat—and I can cultivate something akin to peace. Peace! And sometimes, if I don't screw it up, I think I can even hear the voice of God.
And what it sounds like . . . is music.
Writer's Note: I wrote this essay almost two years ago for a collection called State of the Heart: South Carolina Writers on the Places They Love, Volume 2, published by USC Press. The book is finally here and I couldn't be more delighted!