Yesterday was Amelia's 13th birthday, and we took her out last night for her traditional Birthday Dinner at Outback. (Hey, it's not a grand tradition, but it's ours.) Though the evening was festive enough, I felt a heart-pang when she asked me not to tell the server it was her birthday. "I don't want the song, Mom," she said, rolling her eyes. I remember when she lived for the song! She still wanted dessert, of course, so she hasn't abandoned the old ways entirely. (FYI – without the song, you have to pay for dessert.)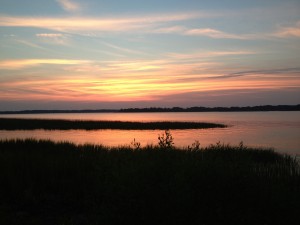 After supper, we dropped Jeff at home and drove down to Pigeon Point Landing; it was Amelia's idea. For many summers, she and I rode our bikes to the landing every night after supper. We'd sit together on the dock, the sunset flashing pink and orange on the water, the dolphins jumping, the old men pulling in their nets. Amelia's not much interested in the landing anymore, so it was a particular kind of wonderful to be there together on her birthday, at her request. We took some pictures and talked about the One Direction concert we're going to together in September. (She bought the tickets with her grandmother's birthday money.) "It's the perfect mother/daughter show," she told me, her excitement reminding me of the little girl I once knew. I couldn't care less about One Direction, but the fact that she wants to go to a concert with me – or anywhere, for that matter – is reason enough for celebration. Twelve has been a difficult age – all the pulling away and letting go – and thirteen has been looming like a dark cloud on the horizon. I'll take what I can get.
As we headed home from the landing, Amelia surprised me by saying, "Mom, can we go by the playground? I feel like being pushed in a swing."
And so we did.
Maybe this is as hard for her as it is for me.